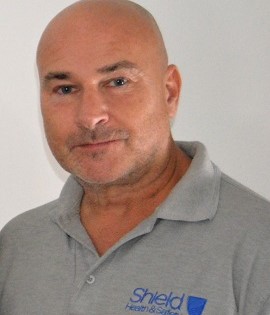 Job Profile:
Roger is the Sales Manager of Shield Health & Safety.
His day to day responsibilities include; dealing with new and existing clients, expanding the customer database and ensuring the smooth running of the sales office.
Favourite Movie: Midnight Express
Favourite Food: Pad Thai
Claim to Fame: Drumming for Duran Duran
In my past life I was a: 19th Century factory worker
One thing from my Bucket List: To visit Cambodia, Laos and Vietnam
Something irritating about me: Absolutely nothing, that's what's so irritating.
Cost Effective Training Solution
Bespoke and Friendly Service
Large Portfolio of Training Courses
Course Record System for Clients
First Class Customer Service
Operating Throughout the UK